If you love your SUP the Isle of Wight is a fantastic location for beginners and experienced alike.
As a keen paddleboarder myself these are my personal favourite locations
Sunset – on a calm evening there is nowhere more beautiful that Freshwater Bay for a sunset paddleboard , if you are experienced and the tide is right  paddle around the corner where you can see caves and amazing coral seafloor – in high season there's also a Pizza Van (order ahead – WIGHTWOODPIZZA – if they are fully booked Try FOUCO  in Freshwater) and a red London bus bar.
Adventure – Newtown Creek – check tide is in and start from the slipway near the Old Town Hall (#threewords //ending.servicing.quilt) Again – for experienced paddlers. Take note of the noticeboard by the slipway – there are dangerous mud areas at the river mouth to be avoided – they are marked by wooden stakes so easily seen. If you make it out to the river mouth you will probably see seals and sea eagles! I highly stress that this is for experienced SUP paddleboard users only , not children and you must consider weather/wind/tide conditions.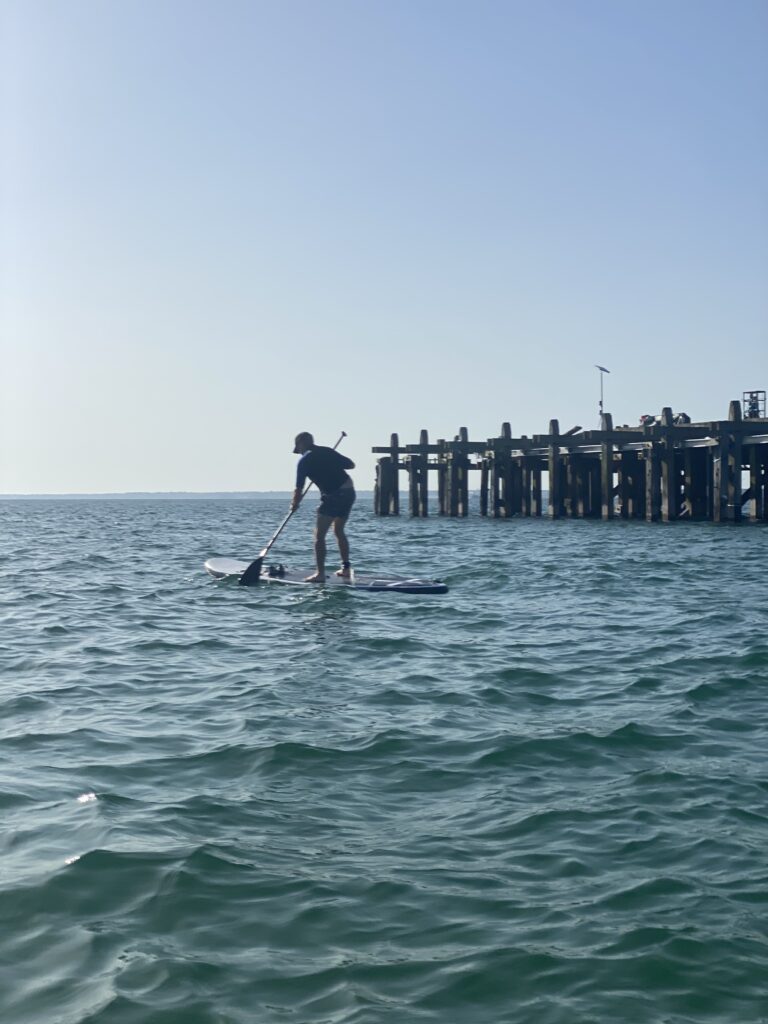 Family Fun – SUP Paddleboarding Isle of Wight – Head to St Helens Duver – the beach is protected by the Bembridge Shelf so makes for shallow and flat water when the tide is low. Great for beginners and children
Between Sandown and Shanklin is also good – park at Shanklin and walk the revetment until you find a spot (there are beachhuts to hire – try Steve's Beach 07928 891020 ) . Not so great at very high tide as can be tricky to get in!
Compton Bay and Totland Bay also great locations for families to advanced – I'm often there with my brother
Top Tips for SUP Isle of Wight Paddleboarding
Check the tides and winds! I use BBC weather and select South Coast
Beach shoes a good call as some beaches are pebbly or in the case of the creek a bit slimy underfoot!
Follow the recommended SUP safety advice
Private tours Contact Arron at Shipmates
Hiring boards
Beach concessions at Sandown/Shanklin
Two Elements Cowes
Lessons – book in advance